The Torah Encyclopedia
of the Animal Kingdom
Volume One: Chayot / Wild Animals
Rabbi Natan Slifkin
---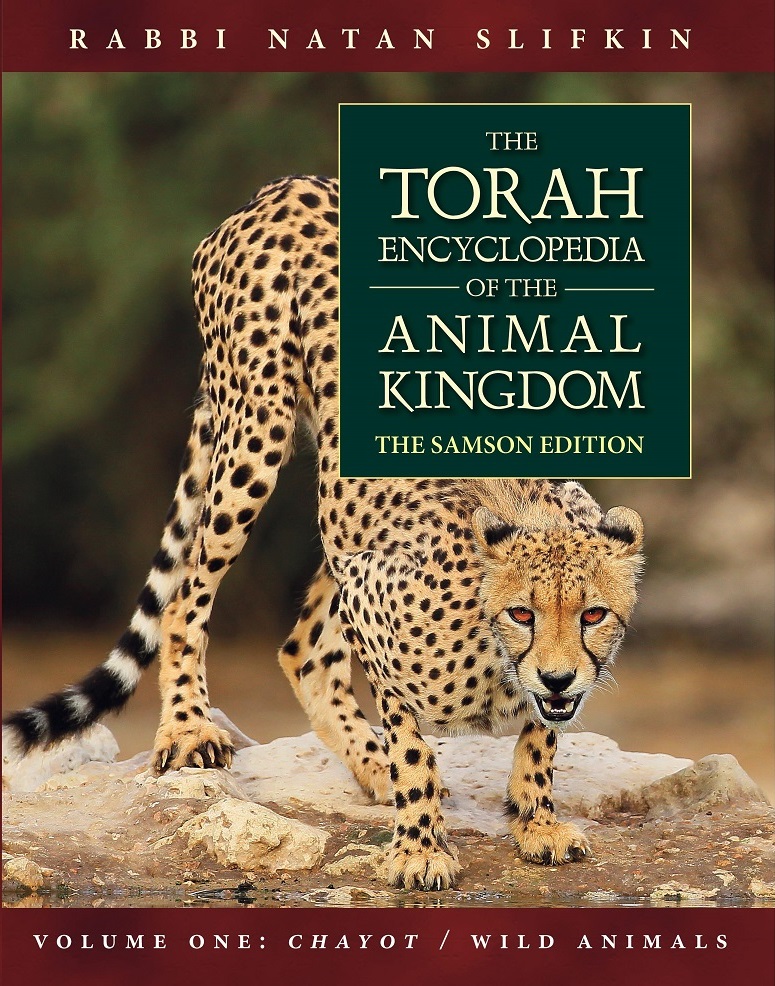 The Torah Encyclopedia of the Animal Kingdom is a complete reference to animals in the Torah, Talmud and Midrash. Complete with stunning, full-color photographs, it includes:
Entries on every mammal, bird, reptile, amphibian, insect and fish found in the Torah, Prophets and Writings;
All scriptural citations, and a vast range of sources from the Talmud and Midrash;
Detailed analyses of the identities of these animals, based on classical Jewish sources and contemporary zoology;
The symbolism of these animals in Jewish thought throughout the ages;
Zoological information about these animals and fascinating facts;
Studies of man's relationship with animals in Torah philosophy and law;
Lessons that Judaism derives from the animal kingdom for us to use in our own daily lives;
Laws relating to the various different animals.
The Torah Encyclopedia of the Animal Kingdom is an invaluable reference work that will be commonplace in homes and educational institution.
Published by The Biblical Museum of Natural History, in conjunction with Koren Publishers and OU Press. 454 pages, full color, large format hardcover. Price: $49.95. FREE SHIPPING! (to Israel, North America and Europe.) Israel orders ship March 2015. Other orders ship April/May 2015.
Download the table of contents here
Download a FREE sample chapter on the leopard here! (PDF)
"In The Torah Encyclopedia of the Animal Kingdom Rabbi Natan Slifkin has produced a groundbreaking work of outstanding scholarship, vast erudition, and a truly engaging approach to an understudied topic. The work will be eye-opening for many, who had only a vague sense of the intense interest the Hebrew Bible and Judaism's sages had for the Divinely created diversity of the animal kingdom. A wonderful book, magnificently produced, that should be on every Jewish bookshelf." - Rabbi Lord Jonathan Sacks
"Few things fascinate adults and children alike as much as the grandeur, the magnificence, and the variety of the animal kingdom. Those who appreciate the Torah and tradition will find special pleasure when these two realms come together. Rabbi Slifkin succeeds masterfully in doing this, with stunning photographs, fascinating research, and rich commentary, enabling every reader to take a sense of awe in God's creation to a new level of understanding." - Rabbi Yitzchok Adlerstein

"The Torah Encyclopedia of the Animal Kingdom is beautifully produced and most informative. It will serve as a necessary aid to those who wish to comprehend the words of the Torah and appreciate its awe of the grandeur of God's world." - Rabbi Berel Wein

"The Torah Encyclopedia of the Animal Kingdom is an extremely impressive work. It is written in such a manner as to be accessible to the non-expert, yet contains information that will be of interest to rabbis and scholars. The author has done a masterful job weaving together and integrating Torah sources and scientific knowledge while maintaining the integrity of each discipline." - Rabbi Dr. Ari Zivotofsky

"This is an important and comprehensive work on the animal kingdom from a Jewish perspective. The author demonstrates great expertise in rabbinic sources, as well as extensive knowledge of zoology. He succeeds in connecting the reader to biblical verses and sayings of the sages, clarifying both symbolic descriptions and factual accounts, in a clear writing style that is suited to diverse audiences. This volume should be in every public and private library." - Dr. Zohar Amar